Friday 16th February 2024 (4pm)
to Sunday 18th February 2024 (2pm)
Yanada 1741 St Albans Road, Singletons Mill NSW
Are you ready to supercharge your intuitive gifts?
Are you ready to step into your powerful life?
Are your ready to connect with a powerful soul tribe of women? 
The Brave Woman Retreat is a space of transformational change to facilitate you to step into your powerful self. This retreat is a space for connecting with women who are truth seekers, who are ready to do the inner work and to step into their purpose.
Spiritual Tools 
You will learn techniques to super charge your intuitive abilities. Meditation, oracle readings, channelling experiences will be an important part of the retreat. You will leave the retreat knowing how powerful you are as an intuitive and with tools to further your development.
Yoga
The yoga sessions are suitable for all levels, and are a gentle, fluid sequence of postures. These energising and healing classes help the physical body to release built-up tension and channel the energy into the spine.
Creativity
You will connect to your inner child and learn to ground in a new way with creative play. Clay-play is a meditative practise and joyful creating making. Dance and movement will show you how to lift yourself to higher states of consciousness.
Location
The multi-day retreats are set in beautiful, serene locations so you feel soothed by the warm air and stillness of the location. You will be eating fresh organic food, and there is also lots of nourishing rest to unwind.
Why Attend The Brave Woman Retreat
For the spiritually curious, the modern awakening woman & lightworkers making an impact.
Would you like to...
✔ Build your Spiritual Self-esteem and understand the steps forward on your Spiritual Path in 2024
✔ Learn how to activate your personal unique psychic abilities to connect to your Spirit Team
✔ Release blocks holding you back from stepping into your full potential
✔ Receive a sound healing and a powerful heart opening Cacao ceremony
✔ Practical experiences that validate your spiritual gifts
✔ Develop lasting relationships with a spiritual soul tribe to support you
These retreats are suitable for all levels, whether you are new to your spiritual path or very experienced you will leave expanded.
Each day of the retreat will be made up of some gentle yoga, breathwork, meditation, creativity and spiritual exercises, healing music, nourishing food, being a part of an inspiring group of people and in a location that will leave you in awe.
You will leave your retreat experience feeling spiritually supercharged, powerful, connected and with a sense of clear steps forward in your life.
Sheila's guidance is phenomenal bringing ladies to share, connect and showing us our strong capabilities to give and receive readings, giving clarification to another and sharing our knowings. Each encounter with Sheila, strengthens and verifies my purpose. I am always left with a feeling of excitement, calmness and giddy with happiness
- Sabia
EARLY BIRD PRICING AVAILABLE



The Brave Woman 3 Day Retreat

Friday 16th February (4pm) – Sunday 18th February (2pm)
Meet Your Host: Sheila V
Corporate C-Suite CFO to empowerment mentor; Sheila Vijeyarasa is a force to be reckoned with, following the successful release of her inaugural book; Brave: Courageously Live your Truth.   
Fast becoming a beacon of light and support to females across the globe following the launch of her mentoring program The Courageous PathTM, Sheila is showing up authentically again, this time on our screens to tell the story of her IVF journey to try and become a mother.  
The raw challenge, which Sheila is sharing with the world, is her struggle to become a mother. Sheila is bravely supporting others again by documenting her mature age  IVF journey on Channel Nine's documentary: Big Miracles.   
Sheila is a powerful manifestor and has written the play book on how to break the rules. A spiritual teacher, mentor, intuitive guide and executive coach, Sheila has legions of females who have her to thank for breaking down barriers and realizing their goals. She works with emerging leaders to clear their limiting beliefs and address common blocks including burnout, perfectionism, and imposter syndrome. After decades of leading and leadership training, she has an enormous tool kit of high-performance habits, confidence hacks and communication tips to deal with challenging staff and difficult conversations.  
Yoga Goddess: Carli
Carli is an Ashtanga Mysore style trained yoga teacher.
Mysore style classes are the method in which Ashtanga Yoga is traditionally learned.
Carli has been practising for ten years and teaching for five, and brings her knowledge of the breath, movement and rhythm into her classes to support individuals to develop their own connection to body and breath.
She works one on one with clients supporting them clear stress, anxiety and clearing limiting beliefs so they can gain inner peace, confidence and connect to their own intuition. Carli uses her knowledge of yoga (both physically and psychologically) to support people both on and off the mat. 
Earth Mother Sound Healer: Bess Bowls
Bess is a Sound Healer, Ceremonialist, Meditation & Yoga Teacher based in NSW. She infuses her love of sound, ritual, breathwork, movement and creative self-expression into all of her offerings. Leading from her heart Bess guides you into The Art of Ceremony and awakening to your true self and heart song. Her offerings are designed for you to tap into your free-flowing states of mind, body & spirit. 

In her Yin, Yoga Nidra and Sound Healing Classes you will be transformed to another space for deep healing and relaxation. The sounds of the Crystal, Tibetan Bowls & Soothing Vocals will deepen your experience of self-love connecting deep within the cells of your body.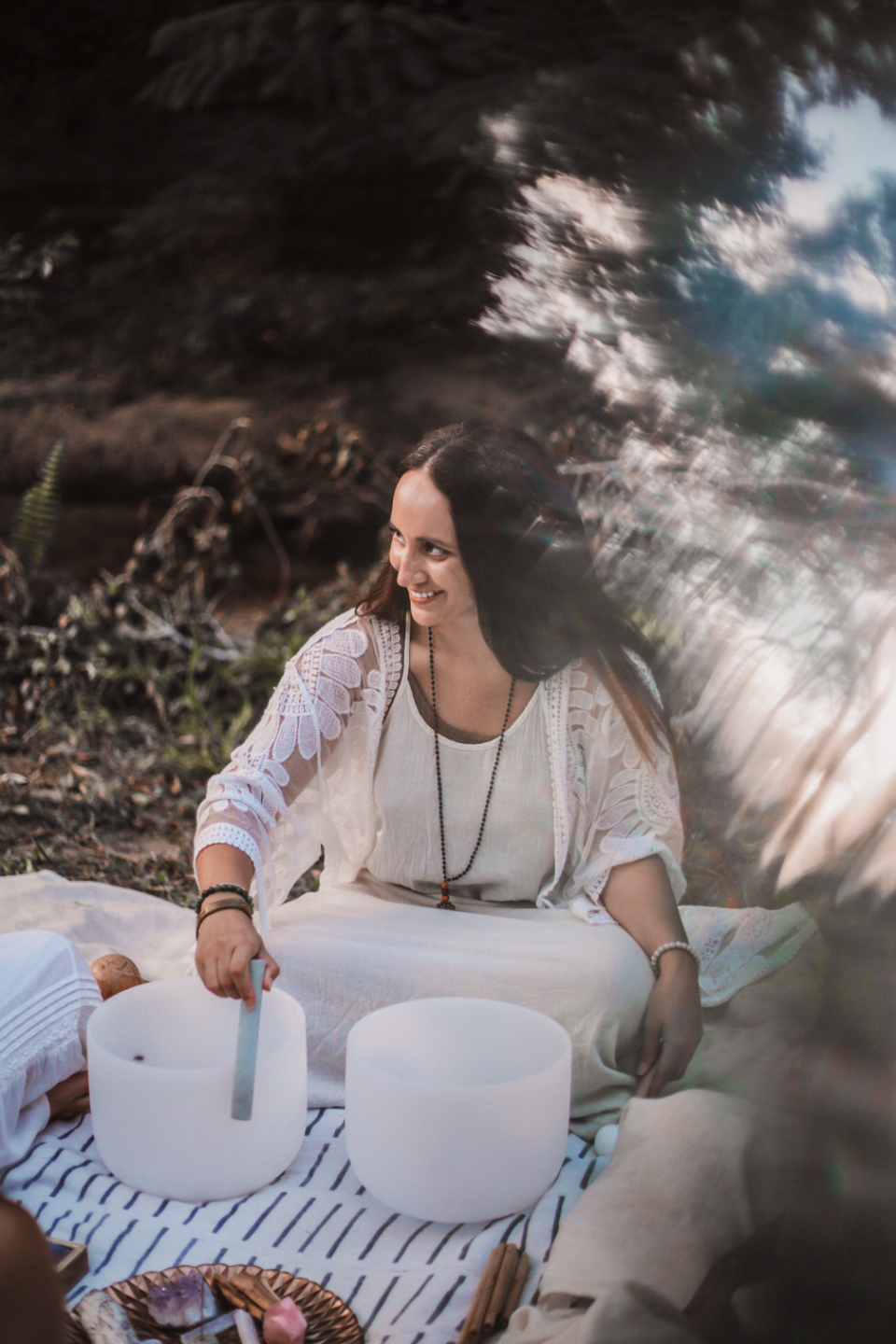 Inspired Creativity: Jo Robertson
Jo Robertson has a love for wellness, the ocean and has always had a creative energy about her. She wanted to share her love for Clay & Pottery to those that wanted to follow the same journey and give people a taste of what Clay has to offer.
Jo will be leading us through an embodied clay experience on Sunday morning for 2 hours. Working with Clay can take our mind to a place of peace & serenity. It teaches us to slow down and enjoy the moment. It's a great way to clear the mind of anxieties and is wonderful for our mental health. It is also a great way to connect with friends and family whilst creating together.